haustra
Also found in:
Encyclopedia
,
Wikipedia
.
haustrum
[

haws´trum

] (pl. haus´tra) (L.)

one of the pouches of the colon, produced by adaptation of its length to the

taenia coli

, or by collection of circular muscle fibers 1 or 2 cm apart; the haustra are responsible for the sacculated appearance of the colon.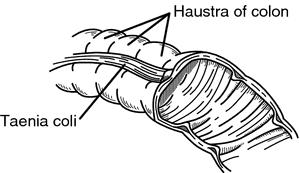 haus·tra
(

haw'stră

), Avoid the incorrect form

haustrae

.

Plural of haustrum.

[L.]
haustrum
(haw′strŭm) plural.haustra [L. haurire, to draw, drink]

One of the sacculations of the colon caused by longitudinal bands of smooth muscle (taeniae coli) that are shorter than the gut.

haustral (haw′străl), adjective
haustra
plural of haustrum.