Gullstrand's slit lamp
Also found in:
Dictionary
,
Thesaurus
,
Encyclopedia
.
lamp
[

lamp

]

an apparatus for furnishing heat or light.

Gullstrand's slit lamp

an apparatus for projecting a narrow flat beam of intense light into the eye. See also

slit lamp

.

slit lamp

one embodying a diaphragm containing a slitlike opening, by means of which a narrow, flat beam of intense light may be projected into the eye. It gives intense illumination so that microscopic study may be made of the conjunctiva, cornea, iris, lens, and vitreous, the special feature being that it illuminates a section through the substance of these structures.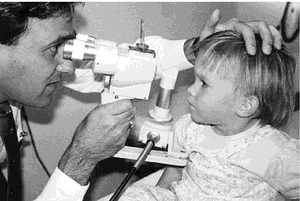 sun lamp
(
ultraviolet lamp
) an electric light that transmits
ultraviolet rays
; used as a therapeutic device and as a means of obtaining an artificial suntan. See also
ultraviolet therapy
.
Miller-Keane Encyclopedia and Dictionary of Medicine, Nursing, and Allied Health, Seventh Edition. © 2003 by Saunders, an imprint of Elsevier, Inc. All rights reserved.