coccus
(redirected from Gram-positive cocci)
Also found in:
Dictionary
,
Thesaurus
,
Encyclopedia
.
coccus
[

kok´us

] (pl. coc´ci) (L.)

a spherical bacterium, usually slightly less than 1 μ in diameter, belonging to the Micrococcaceae family. It is one of the three basic forms of bacteria, the other two being

bacillus

(rod-shaped) and

spirillum

(spiral-shaped). A pathogenic coccus can almost always be classified as either a

staphylococcus

(occurring in clusters), or a

streptococcus

(occurring in short or long chains). Both staphylococci and streptococci are gram-positive and do not form spores.

The staphylococci are responsible for many serious infections, especially

Staphylococcus aureus,

which is the causative agent in boils, abscesses, osteomyelitis, and a large variety of other infections. Staphylococci have received much attention in recent years because of the ability of most strains to develop a resistance to antibiotics.

The most dangerous streptococci are those of the beta-hemolytic type. Various species of streptococci cause

sore throat

,

scarlet fever

,

mastoiditis

, and

septicemia

.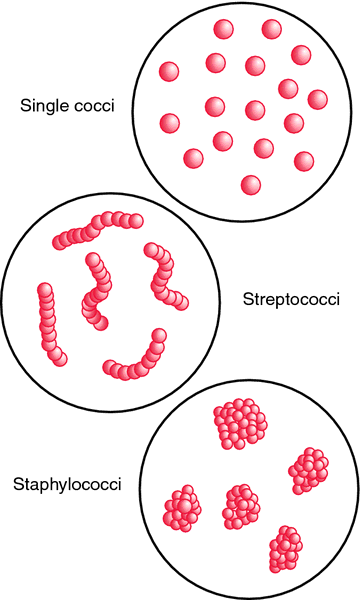 Miller-Keane Encyclopedia and Dictionary of Medicine, Nursing, and Allied Health, Seventh Edition. © 2003 by Saunders, an imprint of Elsevier, Inc. All rights reserved.
coc·cus
, pl.
coc·ci
(

kok'ŭs, kok'sī

), Avoid mispronouncing the plural form

kok'ī

.

1. A bacterium of round, spheroid, or ovoid form.

[G. kokkos, berry]

Farlex Partner Medical Dictionary © Farlex 2012
coccus
(kŏk′əs)
n.
pl.
cocci
(kŏk′sī, kŏk′ī)
A bacterium having a spherical or spheroidal shape.
---
The American Heritage® Medical Dictionary Copyright © 2007, 2004 by Houghton Mifflin Company. Published by Houghton Mifflin Company. All rights reserved.
coc·cus
, pl. cocci (

kokŭs, -sī

)

1. A bacterium of round, spheroid, or ovoid form.

[G. kokkos, berry]

Medical Dictionary for the Health Professions and Nursing © Farlex 2012
coccus
A common type of spherical or spheroidal bacterium. Cocci connected in line are called STREPTOCOCCI; those in bunches are called STAPHYLOCOCCI.

Collins Dictionary of Medicine © Robert M. Youngson 2004, 2005
coccus
a bacterium having a spherical or globular form.

Collins Dictionary of Biology, 3rd ed. © W. G. Hale, V. A. Saunders, J. P. Margham 2005
coc·cus
, pl. cocci (

kokŭs, -sī

)

A bacterium of round, spheroid, or ovoid form.

[G. kokkos, berry]

Medical Dictionary for the Dental Professions © Farlex 2012