Fortral
pentazocine lactate
Talwin
pentazocine hydrochloride and acetaminophen
Fortral (UK)
pentazocine hydrochloride and naloxone hydrochloride
Pharmacologic class: Opioid agonist-antagonist
Therapeutic class: Opioid analgesic, adjunct to anesthesia
Controlled substance schedule IV Pregnancy risk category C
FDA Box Warning
• When administering pentazocine hydrochloride and acetaminophen, be aware that acetaminophen has been associated with acute liver failure, at times resulting in liver transplant or death. Most of the cases of liver injury are associated with the use of acetaminophen at dosages that exceed 4,000 mg/day, and often involve more than one acetaminophen-containing product.
• Pentazocine and naloxone hydrochloride tablets are for oral use only. Severe, potentially lethal reactions may result from misuse by injection, alone or in combination with other substances.
Action
Unknown. Thought to interact with opioid receptor sites primarily in limbic system, thalamus, and spinal cord, blocking transmission of pain impulses.
Availability
Injection: 30 mg/ml (as lactate salt) Tablets: 50 mg pentazocine and 0.5 mg naloxone (Talwin NX); 25 mg pentazocine and 650 mg acetaminophen (Talacen)
Indications and dosages
➣ Moderate to severe pain; preoperative or preanesthetic medication; adjunct to surgical anesthesia
Adults: 30 mg subcutaneously, I.M., or I.V. q 3 to 4 hours (not to exceed 60 mg/dose subcutaneously or I.M., or 30 mg/dose I.V.). Maximum daily dosage is 360 mg.
➣ Moderate to severe pain
Adults: Initially, one tablet (Talwin Nx) q 3 to 4 hours, increased to two tablets p.r.n., up to a maximum of 12 tablets daily
➣ Mild to moderate pain
Adults: One tablet (Talacen) P.O. q 4 hours; up to a maximum of six tablets daily
➣ Labor
Adults: 20 mg I.V. for two or three doses at 2- to 3-hour intervals, or 30 mg I.M. as a single dose
Contraindications
• Hypersensitivity to drug, acetaminophen, or naloxone (with oral form)
Precautions
Use cautiously in:
• head trauma, increased intracranial pressure, respiratory conditions, adrenal insufficiency, seizure disorder, acute CNS manifestations, hepatic impairment, acute myocardial infarction, alcohol or narcotic use
• sulfite sensitivity (Talacen)
• history of drug abuse
• pregnant or breastfeeding patients
• children (safety not established).
Administration
• Administer each 5-mg I.V. dose by slow direct infusion over 1 minute, with patient lying supine.
• Use subcutaneous route only when necessary (may cause tissue damage).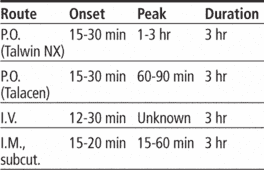 Adverse reactions
CNS: dizziness, drowsiness, euphoria, hallucinations, headache, sedation, dysphoria, insomnia, unusual dreams, weakness, depression, irritability, excitement, tremor, paresthesia
CV: hypertension, hypotension, syncope, tachycardia, circulatory depression, shock
EENT: blurred vision, diplopia, nystagmus, miosis (with high doses), tinnitus
GI: nausea, vomiting, constipation, diarrhea, dry mouth, ileus, cramps, abdominal distress, anorexia
GU: urinary retention, altered rate and strength of labor contractions Hematologic: thrombocytopenia purpura (with Talacen)
Respiratory: dyspnea, transient apnea in neonates whose mothers received pentazocine during labor, respiratory depression
Skin: clammy skin, diaphoresis, rash, urticaria, nodules, cutaneous depression, skin and subcutaneous sclerosis, dermatitis, pruritus, flushing
Other: altered taste, chills, soft-tissue induration, stinging on injection, facial edema, physical or psychological drug dependence, drug tolerance, anaphylaxis
Interactions
Drug-drug. Barbiturates, first-generation (sedating) antihistamines, other sedating drugs: additive CNS depression
MAO inhibitors: unpredictable reactions
Opioids: decreased analgesic effects
Drug-diagnostic tests. Amylase, lipase: increased levels
Granulocytes, white blood cells: reduced counts
Drug-herbs. Chamomile, hops, kava, skullcap, valerian: increased CNS depression
Drug-behaviors. Alcohol use: increased CNS depression
Patient monitoring
☞ Monitor vital signs. Watch closely for evidence of shock, dyspnea, and circulatory or respiratory depression.
• Monitor drug efficacy.
• In prolonged use, assess for signs and symptoms of drug dependence.
Patient teaching
☞ Tell patient receiving Talacen or Talwin NX that drug is for oral use only. Life-threatening reactions may result from misusing drug by injection.
• Inform patient that withdrawal symptoms may occur if he stops taking drug suddenly after prolonged use.
• Urge patient to avoid alcohol.
• Advise patient to consult prescriber before taking other prescription drugs or over-the-counter preparations.
• Caution patient to avoid driving and other hazardous activities until he knows how drug affects him.
• Advise patient to have periodic eye exams.
• As appropriate, review all other significant and life-threatening adverse reactions and interactions, especially those related to the drugs, tests, herbs, and behaviors mentioned above.
McGraw-Hill Nurse's Drug Handbook, 7th Ed. Copyright © 2013 by The McGraw-Hill Companies, Inc. All rights reserved
Fortral
A brand name for PENTAZOCINE.

Collins Dictionary of Medicine © Robert M. Youngson 2004, 2005