lung volumes
(redirected from Expiratory reserve capacity)
Also found in:
Encyclopedia
.
lung volumes
Physiology A group of air 'compartments' into which the lung may be functionally divided

Lung volumes


Expiratory reserve capacity–ERV The maximum volume of air that can be voluntarily exhaled

Functional residual capacity (FRV) Volume left in the lungs at the end of a normal breath which is not normally part of the subdivisions

Inspiratory capacity–IC The maximum volume that can be inhaled

Inspiratory Reserve capacity–IRC The maximum volume that can be inhaled above the tidal volume

Tidal volume–VT The normal to-and-fro respiratory exchange of 500 cc; vital capacity is the maximum amount of exhalable air; after a full inspiration, which added to the residual volume, is the total lung capacity

Total lung capacity–TLC The entire volume of the lung, circa 5 liters

Vital capacity–VC The maximum volume that can be inhaled and exhaled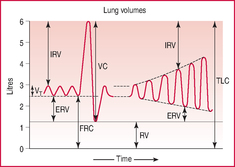 lung volumes
measurements made as part of pulmonary function tests; the volumes that move in and out during the normal breathing cycle, and with deliberate additional effort, can be measured directly by spirometry with the subject breathing through a closed circuit in and out of a cylinder inverted over water, or into a vitalograph, or by pneumotachograph; the residual volume can be measured only indirectly by dilution methods (usually with helium) or by whole body plethysmography. See also ventilation. See figure and table overleaf .
Table 1: Lung volumes
VT (TV)
Tidal volume
Volume of inspired/expired air moving in and out with each breath
IRV
ERV
Inspiratory and expiratory reserve volumes
Used when tidal volume increases above that at rest
VC
Vital capacity
Volume that can be inspired/expired after full expiration/inspiration
FEV1
Forced expiratory volume in 1s
Volume exhaled in the first second, with maximal effort after full inspiration
FRC
Functional residual capacity
Volume remaining in the lungs at end-expiration; decreases as tidal volume increases
RV
Residual volume
Remains after a maximal expiratory effort; cannot be exhaled
TLC
Total lung capacity
Vital capacity + residual volume