Estrasorb
Also found in:
Dictionary
,
Thesaurus
,
Encyclopedia
.
estradiol
Bedol (UK), Elestrin, Elleste (UK), Elleste-Solo (UK), Estrace, Estring, Estrogel, Gynodiol, Innofem, Oestrogel (UK), Progynova (UK), Sandrena (UK), Vagifem, Zumenon (UK)
estradiol acetate
Femring, Femtrace
estradiol cypionate
Depo-Estradiol
estradiol hemihydrate
Estrasorb
estradiol transdermal system
Alora, Climara, Estraderm, Estradot (UK), Evorel (UK), Fematrix (UK), Femseven (UK), Menostar, Vivelle
estradiol valerate
Climaval (UK), Delestrogen, Femogex (CA)
Pharmacologic class: Estrogen
Therapeutic class: Hormone
Pregnancy risk category X
Action
Binds to nuclear receptors in responsive tissues (such as female genital organs, breasts, and pituitary gland), enhancing DNA, RNA, and protein synthesis. In androgen-dependent prostate cancer, competes for androgen receptor sites, inhibiting androgen activity. Also decreases pituitary release of follicle-stimulating hormone and luteinizing hormone.
Availability
Injection (cypionate in oil): 5 mg/ml
Injection (valerate in oil): 10 mg/ml, 20 mg/ml, 40 mg/ml
Tablets: 0.5 mg, 1 mg, 1.5 mg, 2 mg
Tablets (film-coated): 25.8 mcg estradiol hemidrate (equivalent to 25 mcg estradiol)
Transdermal system: 25 mcg/24-hour release rate, 37.5 mcg/24-hour release rate, 50 mcg/24-hour release rate, 75 mcg/24-hour release rate, 100 mcg/24-hour release rate
Vaginal cream: 100 mcg/g
Vaginal ring: 2 mg released over 90 days
Vaginal tablets: 10 mcg
Indications and dosages
➣ Symptoms of menopause, atrophic vaginitis, female hypogonadism, ovarian failure, and osteoporosis
Adults: 0.5 to 2 mg (estradiol) P.O. daily continuously or cyclically. Or 1 to 5 mg (cypionate) or 10 to 20 mg (valerate) I.M. monthly. Or 50- or 100-mcg/24-hour transdermal patch applied twice weekly (Alora, Estraderm) or weekly (Climara). Or 25-mcg/24-hour patch applied q 7 days (FemPatch) or 37.5- to 100-mcg transdermal patch applied twice weekly (Vivelle). Or 2 to 4 g (0.2 to 0.4 mg) vaginal cream (estradiol) applied daily for 1 to 2 weeks, then decreased to 1 to 2 g/day for 1 to 2 weeks, then a maintenance dose of 1 g one to three times weekly for 3 weeks, then off for 1 week; repeat cycle once vaginal mucosa has been restored. Or 2-mg vaginal ring q 3 months or 10-mcg vaginal tablet once daily for 2 weeks, then twice weekly.
➣ Postmenopausal breast cancer
Adults: 10 mg P.O. t.i.d. (estradiol)
➣ Prostate cancer
Adults: 1 to 2 mg P.O. t.i.d. (estradiol) or 30 mg I.M. q 1 to 2 weeks (valerate)
Contraindications
• Hypersensitivity to drug or its components
• Thromboembolic disease (current or previous)
• Undiagnosed vaginal bleeding
• Breast or reproductive system cancer (except in metastatic disease)
• Estrogen-dependent neoplasms
• Pregnancy
Precautions
Use cautiously in:
• cardiovascular, hepatic, or renal disease
• breastfeeding patients.
Administration
• Inject I.M. dose deep into large muscle mass; rotate injection sites.
• If switching from oral to transdermal estrogen, apply patch 1 week after withdrawal of oral therapy.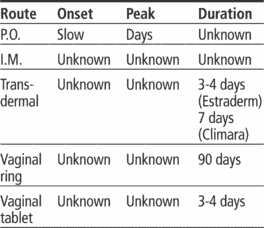 Adverse reactions
CNS: headache, dizziness, lethargy, depression
CV: hypertension, myocardial infarction (MI), thromboembolism
EENT: contact lens intolerance, worsening of myopia or astigmatism
GI: nausea, vomiting, bowel obstruction with vaginal ring (rare)
GU: amenorrhea, dysmenorrhea, breakthrough bleeding, cervical erosions, decreased libido, vaginal candidiasis, erectile dysfunction, testicular atrophy, gynecomastia, breast pain or tenderness
Hepatic: jaundice
Metabolic: sodium and fluid retention, hypercalcemia, hyperglycemia
Musculoskeletal: leg cramps
Skin: oily skin, acne, pigmentation changes, urticaria
Other: weight loss or gain, edema, increased appetite, toxic shock syndrome with vaginal ring (rare)
Interactions
Drug-drug. Insulin, oral hypoglycemics, warfarin: altered requirements for these drugs
Drug-diagnostic tests. Antithrombin III, folate, low-density lipoproteins, pyridoxine, total cholesterol, urine pregnanediol: decreased levels
Cortisol; factors VII, VIII, IX, and X; glucose; high-density lipoproteins; phospholipids; prolactin; prothrombin; sodium; triglycerides: increased levels
Metyrapone test: false decrease
Thyroid function tests: false interpretation
Drug-behaviors. Smoking: increased risk of adverse CV reactions
Patient monitoring
☞ Monitor vital signs and cardiovascular status, especially for hypertension, thromboembolism, and MI.
• Be aware that a few cases of ring adherence to the vaginal wall have occurred, which may require evaluation of wall ulceration and erosion.
• Assess vision.
• In diabetic patient, monitor blood glucose level and watch for signs and symptoms of hyperglycemia.
Patient teaching
• Instruct patient to place transdermal patch on clean, dry skin area.
• Teach proper technique for use of vaginal tablet, ring, or cream, as appropriate.
• Tell patient drug may cause loss of libido (in women) or erectile dysfunction (in men). Encourage patient to discuss these issues with prescriber.
☞ Teach patient to recognize and immediately report signs and symptoms of thromboembolism.
☞ Caution patient not to take drug if she is or plans to become pregnant.
• Advise patient that drug may worsen nearsightedness or astigmatism and make contact lenses uncomfortable.
• As appropriate, review all other significant and life-threatening adverse reactions and interactions, especially those related to the drugs, tests, and behaviors mentioned above.
McGraw-Hill Nurse's Drug Handbook, 7th Ed. Copyright © 2013 by The McGraw-Hill Companies, Inc. All rights reserved
Estrasorb®
Geriatrics A topical cream–17ß estradiol for ERT in symptomatic menopausal ♀

McGraw-Hill Concise Dictionary of Modern Medicine. © 2002 by The McGraw-Hill Companies, Inc.