EEG
(redirected from EEGS)
Also found in:
Dictionary
,
Thesaurus
,
Acronyms
,
Encyclopedia
.
electroencephalogram
(EEG) [

e-lek″tro-en-sef´ah-lo-gram″

]

the record produced by

electroencephalography

; a tracing of the electric impulses of the brain.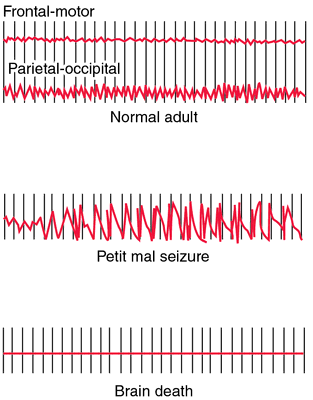 EEG
(ē′ē′jē′)
n.
1. An electroencephalogram.
2. An electroencephalograph.
EEG
Electroencephalogram, electroencephalography
EEG
Abbreviation for electroencephalogram;
electroencephalography.
EEG (electroencephalogram)
a recording of the electrical changes occurring in the brain, produced by placing electrodes on the scalp and amplifying the electrical potential developed. The EEG shows three main types of wave called alpha, beta and delta, that differ in their rates of production. Delta waves are the slowest and are found normally only during sleep.
Electroencephalogram (EEG)
A record of the tiny electrical impulses produced by the brain's activity. By measuring characteristic wave patterns, the EEG can help diagnose certain conditions of the brain.
EEG
Abbreviation for electroencephalogram; electroencephalograph; electroencephalography.