cap
(redirected from Dutch caps)
Also found in:
Dictionary
,
Thesaurus
,
Legal
,
Financial
,
Encyclopedia
.
cap
[

kap

]

1. a covering.

2. a maximum budgetary limit.

cervical cap

a contraceptive device similar to the

diaphragm

but much smaller, consisting of a cup that fits directly over the cervix. It is only 60 per cent effective for women who have already given birth.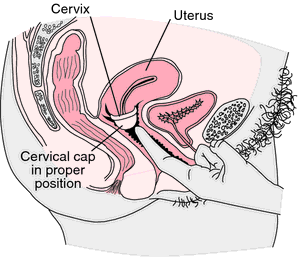 cradle cap
an oily yellowish crust that sometimes appears on the scalp of an infant, caused by excessive secretion by the sebaceous glands in the scalp. Treatment of mild cases consists of daily shampoo with mild soap. It can be loosened with an application of mineral oil or baby oil prior to shampooing. Called also
milk crust
and
crusta lactea
.
Miller-Keane Encyclopedia and Dictionary of Medicine, Nursing, and Allied Health, Seventh Edition. © 2003 by Saunders, an imprint of Elsevier, Inc. All rights reserved.
CAP
(

kap

),
---
cap
(

kap

),

1. Any concave anatomic structure with the appearance or function of a close-fitting cover.

2. A protective covering for an incomplete tooth.

3. Colloquialism for restoration of the coronal part of a natural tooth by means of an artificial crown.

4. A stage of odontogenesis.

5. The nucleotide structure found at the 5'-terminus of many eukaryotic messenger RNAs, consisting of a 7-methylguanosine connected, through its 5'-hydroxyl group, by a triphosphate group to the 5'-hydroxyl group of the first nucleoside encoded by the DNA; usually symbolized as m7G5'ppp5'N, where N is nucleoside number 1 in the transcribed mRNA and is itself often methylated; the cap is added posttranscriptionally.

6. A cluster of aggregated proteins on the surface of a cell.
---
cap
Farlex Partner Medical Dictionary © Farlex 2012
CAP
Abbreviation for:
calcium phosphate
calcium-to-phosphorus (ratio)
camptodactyly arthropathy pericarditis
Canadian Association of Pathologists
cancer of prostate
capillaries
capitation
capsaicin
capsule
captopril
caput
carbamyl phosphate
carcinoma of prostate
catabolite activator protein
cationic activator protein
cell attachment protein
Center Accreditation Project
child abuse potential
children of alcoholic parents
chloramphenicol
cholesteric analysis profile test
chronic alcoholic pancreatitis
chronic apical periodontitis
clathrin-associated protein
client assistance program
clinical articulation profile (speech)
College of American Pathologists
common assurance process (Medspeak-UK)
community access programme
community-acquired pneumonia
compliance aid for pharmaceuticals
compound action potential
computerised automated psychophysiological device
corrective action plan (Medspeak-UK)
cost alocation procedure
Council on Alcohol Policy
criteria air pollutant
cyclase-activating protein
cyclic AMP
cyclophosphamide, Adriamycin, prednisone
cystine aminopeptidase
cystylaminopeptidase

Segen's Medical Dictionary. © 2012 Farlex, Inc. All rights reserved.
CAP
1. College of American Pathologists. See CAP inspection, CAP survey.
3. Cyclophosphamide, Adriamycin, prednisone–an oncology regimen.
---
cap
Dentistry A popular term for a crown, see there Gynecology See Cervical cap Managed care A limit on reimbursement for a health care service imposed by an insurance company or governmental agency. See Capitation Obstetrics See Cradle cap.

McGraw-Hill Concise Dictionary of Modern Medicine. © 2002 by The McGraw-Hill Companies, Inc.
CAP
Abbreviation for catabolite (gene) activator protein.
---
cap
(

kap

)

1. Any anatomic structure that resembles a cap or cover.

2. A protective covering for an incomplete tooth.

3. Colloquialism for restoration of the coronal part of a natural tooth by means of an artificial crown.

4. The nucleotide structure found at the 5' terminus of many eukaryotic messenger RNAs.

Medical Dictionary for the Health Professions and Nursing © Farlex 2012
cap
(

kap

)

1. A protective covering for an incomplete tooth.

2. Colloquialism for restoration of the coronal part of a natural tooth with an artificial crown.

Medical Dictionary for the Dental Professions © Farlex 2012