dB
(redirected from D-sub connectors)
Also found in:
Dictionary
,
Thesaurus
,
Encyclopedia
.
decibel
[

des´ĭ-bel

]

a unit of relative power intensity equal to one tenth of a bel, used for electric or acoustic power measurements; one decibel equals approximately the smallest difference in acoustic power the human ear can detect and an increase of 10 decibels approximately doubles the loudness of a sound. Abbreviated dB or db.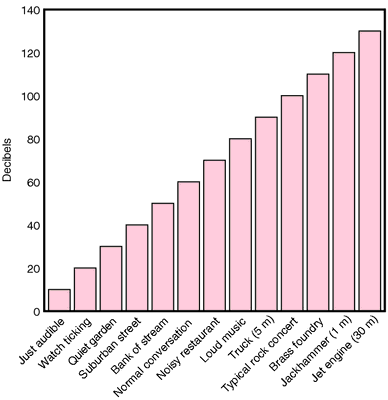 Miller-Keane Encyclopedia and Dictionary of Medicine, Nursing, and Allied Health, Seventh Edition. © 2003 by Saunders, an imprint of Elsevier, Inc. All rights reserved.
Db
---
dB
, db

Farlex Partner Medical Dictionary © Farlex 2012
DB
Abbreviation for:
database (Medspeak-UK)
date of birth (Medspeak-UK)
deaf-blind
decidua basalis
deep breath
demineralised bone
dense body
dextran blue
diet beverage
direct bilirubin
disruptive behaviour
distobuccal
DNA binding
dot blot
double blind
downstream box
duodenal bulb

Segen's Medical Dictionary. © 2012 Farlex, Inc. All rights reserved.
dB
Abbreviation for decibel.
Medical Dictionary for the Health Professions and Nursing © Farlex 2012
dB
Abbreviation for decibel.
Medical Dictionary for the Dental Professions © Farlex 2012