commit
(redirected from Committer)
Also found in:
Dictionary
,
Thesaurus
,
Legal
,
Encyclopedia
,
Wikipedia
.
nicotine
nicotine inhaler
Nicotrol Inhaler
nicotine nasal spray
Nicotrol NS
nicotine polacrilex
Commit, Nicorette, Nicotinell (UK)
nicotine transdermal system
Clear Nicoderm CQ, Nicoderm CQ, Nicopatch (UK), Nicorette Patch (UK), NiQuitin (UK), Prostep
Pharmacologic class: Cholinergic
Therapeutic class: Smoking deterrent
Pregnancy risk category C (gum), D (inhalation, nasal, transdermal)
Action
Supplies nicotine during controlled withdrawal from cigarette smoking. Binds selectively to nicotinic-choliner-gic receptors in central and peripheral nervous systems, autonomic ganglia, adrenal medulla, and neuromuscular junction. At low doses, has a stimulating effect; at high doses, a reward effect.
Availability
Chewing gum: 2 mg, 4 mg
Inhalation: 42 cartridges/system, each containing 10 mg nicotine (delivers 4 mg)
Nasal spray: 10 mg/ml (0.5 mg/spray) in 10-ml bottles (100 doses)
Transdermal patch: 7 mg/day, 11 mg/day, 14 mg/day, 15 mg/day, 21 mg/day, 22 mg/day
Indications and dosages
➣ Adjunctive therapy (with behavior modification) for nicotine withdrawal Transdermal system-
Adults: 21 mg/day transdermally (Habitrol) for 4 to 8 weeks, then 14 mg/day for 2 to 4 weeks, then 7 mg/day for 2 to 4 weeks, for a total of 8 to 16 weeks; patient must wear system 24 hours/day. Or 21 mg/day transdermally (Nicoderm CQ) for 6 weeks, then 14 mg/day for 2 weeks, then 7 mg/day for 2 weeks, for a total of 10 weeks; patient must wear system 24 hours/day. Or 15 mg/day transdermally (one Nicotrol patch) for 6 weeks; patient must wear system 16 hours/day, removing it at bedtime.
Adults, adolescents, and children weighing less than 45 kg (100 lb) who smoke fewer than 10 cigarettes daily or have underlying cardiovascular disease: 14 mg/day transdermally (Habitrol) for 4 to 8 weeks, then 7 mg/day for 2 to 4 weeks, for a total of 6 to 8 weeks; patient must wear system 24 hours/day. Or 14 mg/day transdermally (Nicoderm CQ) for 6 weeks, then 7 mg/day for 2 weeks, for a total of 8 weeks; patient must wear system 24 hours/day. Nasal spray-
Adults: One spray intranasally in each nostril once or twice per hour, up to five times per hour or 40 times per day, for no longer than 6 months Inhalation-
Adults: For optimal response, at least six cartridges inhaled daily for first 3 to 6 weeks, to a maximum of 16 cartridges daily for up to 12 weeks. Patient self-titrates dosage to required nicotine level (usually 6 to 16 cartridges daily), followed by gradual withdrawal over 6 to 12 weeks.
Chewing gum-
Adults: Use as needed depending on smoking urge or chewing rate, or use on fixed schedule q 1 to 2 hours. Initial requirement may range from 18 to 48 mg/day, not to exceed 60 mg/day.
Contraindications
• Hypersensitivity to drug or its components or to menthol (inhaler only)
• Allergy to adhesive (transdermal forms only)
Precautions
Use cautiously in:
• cardiovascular disease, hypertension, bronchospastic disease, diabetes mellitus, pheochromocytoma, peripheral vascular disease, hyperthyroidism, peptic ulcer disease, hepatic disease
• immediately after myocardial infarction, severe arrhythmia, or severe or worsening angina (use not recommended)
• skin disorders (transdermal form)
• dental disorders, esophagitis, pharyngitis, stomatitis (gum form)
• females of childbearing age
• pregnant or breastfeeding patients.
• children under age 18 (safety and efficacy not established).
Administration
• Apply patch when patient awakens and remove patch (as prescribed) at same time each day.
• Administer nasal spray regularly during first week, to help patient get used to irritant effects.
• With inhalation use, give at least six cartridges daily for first 3 to 6 weeks.
• Encourage patient to titrate dosage to level required, followed by gradual withdrawal.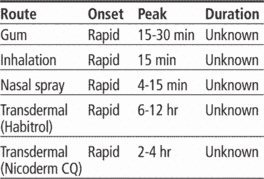 Adverse reactions
CNS: headache, dizziness, drowsiness, poor concentration, nervousness, weakness, paresthesia, insomnia, abnormal dreams
CV: chest pain, hypertension, tachycardia, atrial fibrillation
EENT: sinusitis; pharyngitis (with gum); mouth and throat irritation (with inhaler); nasopharyngeal irritation, rhinitis, sneezing, watering eyes, eye irritation (with nasal spray)
GI: nausea, vomiting, diarrhea, constipation, abdominal pain, dry mouth, dyspepsia; increased salivation, sore mouth (with gum)
GU: dysmenorrhea
Musculoskeletal: joint pain, back pain, myalgia; jaw ache (with gum)
Respiratory: increased cough (with nasal spray or inhaler), bronchospasm
Skin: burning at patch site, erythema, pruritus, cutaneous hypersensitivity, rash, sweating (all with transdermal patch)
Other: abnormal taste, increased appetite (with gum), allergy, hiccups
Interactions
Drug-drug. Acetaminophen, adrenergic antagonists (such as prazosin, labetalol), clozapine, furosemide, imipramine, oxazepam, pentazocine, propranolol and other beta-adrenergic blockers, theophylline: increased effects of these drugs
Bupropion: treatment-emergent hypertension
Insulin: decreased insulin requirement
Isoproterenol, phenylephrine: increased requirements for these drugs
Propoxyphene: decreased nicotine metabolism
Drug-food. Caffeine-containing foods and beverages: increased nicotine effects
Drug-behaviors. Cigarette smoking: increased nicotine metabolism and effects
Patient monitoring
• Assess for signs and symptoms of nicotine withdrawal (irritability, drowsiness, fatigue, headache).
Watch for bronchospasm and evidence of nicotine toxicity (nausea, vomiting, diarrhea, increased salivation, headache, dizziness, visual disturbances).
Patient teaching
Caution patient against any type of smoking during therapy. Urge him to immediately report chest tightness or difficulty breathing.
• If patient uses gum, advise him to chew one piece whenever nicotine craving occurs. Instruct him to chew it slowly until he feels a tingling sensation, then store it between cheek and gum until tingling disappears.
• Instruct patient to apply transdermal patch to clean, dry skin of upper arm or torso when he awakens; to keep it in place when showering, bathing, or swimming; and to remove it at same time each day.
• If patient uses nasal spray, instruct him to tilt head back slightly when spraying. Remind him not to sniff, swallow, or inhale through nose.
• If patient uses inhalation form, teach him to puff continuously for 20 minutes and to use at least six cartridges daily for first 3 to 6 weeks.
• As appropriate, review all significant and life-threatening adverse reactions and interactions, especially those related to the drugs, foods, and behaviors mentioned above.
McGraw-Hill Nurse's Drug Handbook, 7th Ed. Copyright © 2013 by The McGraw-Hill Companies, Inc. All rights reserved
commit
(kə-mĭt′)
v. com·mitted, com·mitting, com·mits
v.tr.
To place officially in confinement or custody, as in a mental health facility.
---
com·mit′ta·ble adj.
The American Heritage® Medical Dictionary Copyright © 2007, 2004 by Houghton Mifflin Company. Published by Houghton Mifflin Company. All rights reserved.
Patient discussion about commit
Q. Can I have her committed to rehab? Hello. I really need some help. My girl friend is 44, I'm 56 yrs old. She's stubborn and will not seek the help she needs. It's driving me crazy and I am unable to help her. Alcoholism is terrible. We are paying the mortgage on a beautiful home together, and I just can't leave her. I've got my own psychological problems that I am dealing with--anxiety, temper and depression. Can I have her committed to rehab?
A. I need to correct my response since this is about a girl friend, not a legal spouse, unless she is a common law wife, since you may be, depending on your state. You may have to be a legal guardian or next of kin. It depends on the laws in your state.

If the person has become a hazard to themselves or to others, especially children, there may be legal recourse with a judge no matter what your relationship.

Others are pointing out that unless a person is wanting help, there is a low success rate for recovery. Someone forced to go to rehab, may go right back to the old ways within the same hour they get out of rehab. Some people end in rehab multiple times this way.

Its not a pretty picture of life. Its not something you can read much about anywhere. But its real. Ask a rehab tech and they could probably tell you stories that will "fold your ears back".

You may have a county mental health agency with a rehab center, instead of the state hospital. Check your phone bo
Q. How do I know if someone's planning to commit suicide? A guy I know is acting weird lately…saying some scary stuff about dying. How can I know he is not joking? And how can I stop him?
A. it shouldn't be your goal to stop him or prevent him as you say. you can't be with this individual 24/7.. if you are there for him and give him your ear to listen it will go much farther to prevent him than nething else you could do. as we learn in the psych field a very simple, effective way to discern suicidal intent is to talk w/ them and in the course of the conversation look right at them and say "it sounds like you're thinking about killing yourself". don't hesitate to call a healthcare professional to explain the situation. you don't have to give your name or his name for them to give u advice
Q. My best friend is always seemed to be depressed. Once he tried to commit suicide. I like to help him.Can u plz Hi I am Mickey, student at the Capella University. My best friend is always seemed to be depressed. Once he tried to commit suicide. His parents are not supporting him; they are not considering him in any way. I usually spend more time with him. I like to help him. When he is in severe depression I don't know what to do to him, and how to treat him?
A. Hi Mickey, I feel sorry for your friend and I really appreciate your care for him. Among young people, depression is common. Talk to his parents or another relative who he respects and trusts. Try to give him self confidence and self esteem. Involve him in some other activity for example, reading books, watching movies etc. It will help him to come out from depression. If not, consult a local physician. There are so many meds which will cure his problem.
More discussions about commit
This content is provided by iMedix and is subject to iMedix Terms. The Questions and Answers are not endorsed or recommended and are made available by patients, not doctors.