Coagulation cascade
Also found in:
Dictionary
,
Thesaurus
,
Encyclopedia
.
cascade
[

kas-kād´

]

a series of steps or stages (as of a physiological process) that, once initiated, continues to the final step because each step is triggered by the preceding one, resulting in amplification of the signal, information, or effect at each stage. In electronics, the term is applied to multiple amplifiers. Examples in biochemistry include blood coagulation and the complement system.

coagulation cascade

the series of steps beginning with activation of the

intrinsic

or

extrinsic

pathways

of coagulation

, or of one of the related alternative pathways, and proceeding through the

common

pathway

of coagulation

to the formation of the fibrin clot.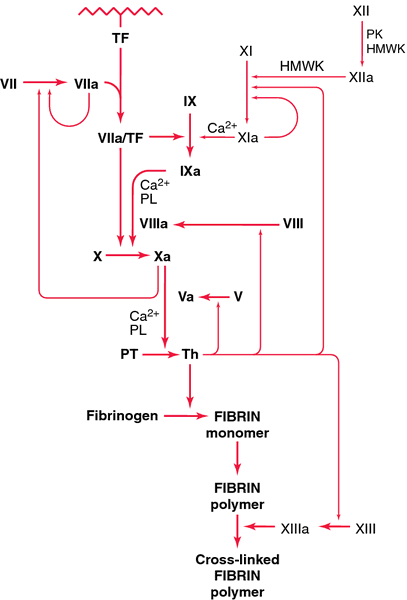 Miller-Keane Encyclopedia and Dictionary of Medicine, Nursing, and Allied Health, Seventh Edition. © 2003 by Saunders, an imprint of Elsevier, Inc. All rights reserved.
Coagulation cascade
The sequence of biochemical activities, involving clotting factors, that stop bleeding by forming a clot.
Gale Encyclopedia of Medicine. Copyright 2008 The Gale Group, Inc. All rights reserved.