cleft jaw
(redirected from Cleft chin)
Also found in:
Dictionary
,
Thesaurus
,
Encyclopedia
,
Wikipedia
.
jaw
[

jaw

]

either the

mandible

(lower jaw) or the

maxilla

(upper jaw), two opposing bony structures of the mouth of a vertebrate; they bear the teeth and are used for seizing prey, for biting, or for masticating food. See anatomic Table of Bones in the Appendices.

cleft jaw

a cleft between the median nasal and maxillary processes through the alveolus; see also

cleft palate

. Called also

gnathoschisis

.

Hapsburg jaw

a mandible that is

prognathous

, often accompanied by

Hapsburg

lip

. See illustration.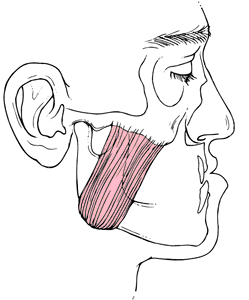 Miller-Keane Encyclopedia and Dictionary of Medicine, Nursing, and Allied Health, Seventh Edition. © 2003 by Saunders, an imprint of Elsevier, Inc. All rights reserved.
cleft jaw
a congenital facial anomaly of the jaw resulting from failure of fusion of the mandibular prominences.
Farlex Partner Medical Dictionary © Farlex 2012
cleft jaw
(

kleft jaw

)

Congenital jaw anomaly resulting from failure of fusion of the mandibular prominences.

Synonym(s):

gnathoschisis

.

Medical Dictionary for the Dental Professions © Farlex 2012