chordae tendineae
Also found in:
Dictionary
,
Wikipedia
.
chorda
[

kor´dah

] (pl. chor´dae) (L.)

a

cord

or sinew. adj.,

adj

chor´dal.

chor´dae tendi´neae

tendinous cords connecting the two atrioventricular valves to the appropriate papillary muscles in the heart ventricles.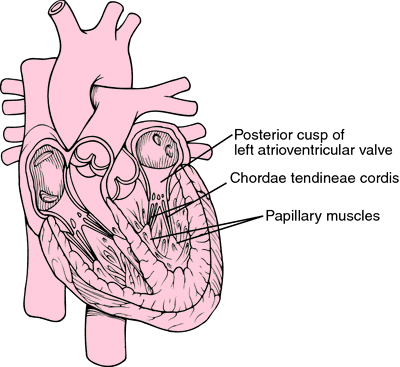 chorda tym´pani a nerve originating from the facial nerve, distributed to the submandibular, sublingual, and lingual glands and the anterior two-thirds of the tongue; it is a parasympathetic and special sensory nerve.
chorda voca´lis vocal cord.
chordae tendineae
stringlike processes in the heart that attach the edges of the bicuspid and tricuspid valves to the walls of the ventricles, preventing them from being forced back into the atria when the ventricles contract.