carotid sinus syndrome
(redirected from Charcot-Weiss-Baker syndrome)
Also found in:
Dictionary
,
Thesaurus
,
Encyclopedia
.
carotid
[

kah-rot´id

]

pertaining to the principal artery of the neck (the carotid artery). See anatomic Table of Arteries in the Appendices.

carotid endarterectomy

surgical removal of atherosclerotic plaques within an extracranial carotid artery, usually the common carotid, done to prevent

stroke

in patients with 70 per cent or greater carotid stenosis. Patients who have a stroke in evolution or have recently had a stroke are not good candidates for the procedure. Surgery at this time could cause an infarcted area of the brain to hemorrhage when its blood supply is suddenly increased. In addition, there is a low success rate for those patients who have total occlusion of the internal carotid arteries.

Patient Care

. Immediately after surgery special monitoring is necessary to assess the patient's neurologic status, including level of consciousness, orientation, and motor activity, especially on the side opposite the surgery. Because of the location of the surgical incision, an enlarging hematoma can rapidly produce respiratory distress. Aspiration also is possible because a hematoma can obstruct the trachea and damage the laryngeal nerve, preventing closure of the glottis.

Crucial observations include evaluation of neck size, noting the patient's ability to swallow, close observation and measurement of drainage, and measurement of respiratory rate and character. A tracheostomy tray and suction apparatus should be available even after the patient is transferred from the recovery room or intensive care unit. Neurologic assessment is necessary to detect complications associated with postoperative cerebral ischemia and cranial nerve damage. Because ischemia of the myocardium is also a possibility, continuous electrocardiograph monitoring is required. Since blood pressure may be increased by surgery, postoperative hypertension is not uncommon.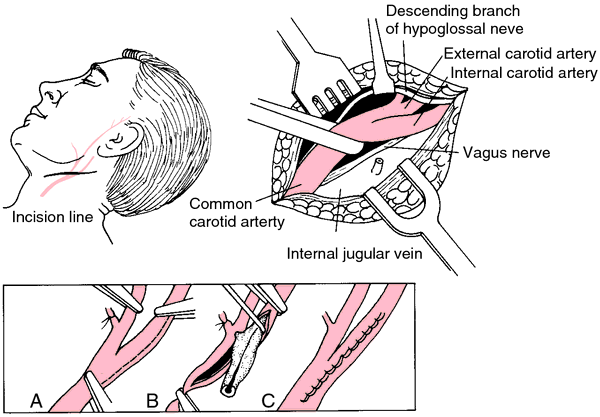 carotid sinus syndrome
syncope sometimes associated with convulsive seizures due to overactivity of the
carotid sinus

reflex
. In certain susceptible persons the
carotid

sinus
is too easily stimulated and symptoms are produced by sudden turning of the head or the wearing of a tight collar. Transient attacks of numbness or weakness of the face, arm, or leg, headache, and in some cases
aphasia
may also occur. The condition most commonly affects older males and may be a cause of unexplained falls. Diagnosis can be confirmed by a gentle massage of the
carotid sinus
area of a patient under monitoring.
asystole
for longer than 3 seconds or a reduction in systolic
blood pressure
of more than 500 mm Hg are considered positive indications. The syndrome can be subdivided into
cardioinhibitory, vasodepressor,
and
mixed
types.
Dual chamber cardiac

pacing
is indicated in the cardioinhibitory and mixed types. Patients who have this condition should be educated to avoid triggering events.
ca·rot·id si·nus syn·drome
confustion or syncope due to decreased cerebral perfusion caused by a hyperactive carotid sinus, producing marked bradycardia.
ca·rot·id si·nus syn·drome
(

kă-rot'id sī'nŭs sin'drōm

)

Stimulation of a hyperactive carotid sinus, causing a marked fall in blood pressure due to vasodilation, cardiac slowing, or both; syncope with or without convulsions or atrioventricular block may occur.
carotid sinus syndrome
A tendency to faint or to suffer convulsions or even CARDIAC ARREST as a result of over-stimulation of the carotid sinus causing extreme slowing of the heart.
Charcot,
Jean Martin, French neurologist, 1825-1893.

Charcot arteries - any one of a variety of small cerebral arteries. Synonym(s): lenticulostriate arteries

Charcot arthritis

Charcot arthropathy

Charcot bath - for patients with arterial disorders.

Charcot change

Charcot gait - the gait of hereditary ataxia.

Charcot intermittent fever

- fever, chills, right upper quadrant pain, and jaundice associated with intermittently obstructing common duct stones. Synonym(s):

Charcot fever

Charcot joint - a neuropathic arthropathy that occurs with tabes dorsalis (tabetic neurosyphilis). Synonym(s): tabetic arthropathy

Charcot laryngeal vertigo

- fainting as a result of a coughing spell, most often occurring in heavy-set male smokers with chronic bronchitis. Synonym(s):

Charcot vertigo

;

tussive syncope

Charcot spine

Charcot syndrome - a condition caused by ischemia of the muscles. Synonym(s): intermittent claudication

Charcot triad - (1) in multiple (disseminated) sclerosis, the three symptoms: nystagmus, tremor, and scanning speech; - (2) combination of jaundice, fever, and upper abdominal pain that occurs as a result of cholangitis.

Charcot-Böttcher crystalloids - spindle-shaped crystalloids found in human Sertoli cells.

Charcot-Marie-Tooth disease - a group of three familial peripheral neuromuscular disorders, sharing the common feature of marked wasting of the more distal extremities. Synonym(s): peroneal muscular atrophy; Tooth disease

Charcot-Weiss-Baker syndrome - stimulation of a hyperactive carotid sinus, causing a marked fall in blood pressure. Synonym(s): carotid sinus syndrome

Charcot-Wilbrand syndrome - inability to recognize objects by sight, usually caused by bilateral parieto-occipital lesions.

Erb-Charcot disease

- see under

Erb
ca·rot·id si·nus syn·drome
(

kă-rot'id sī'nŭs sin'drōm

)

Confustion or syncope due to decreased cerebral perfusion caused by a hyperactive carotid sinus, producing marked bradycardia.