Cervix
Also found in:
Dictionary
,
Thesaurus
,
Acronyms
,
Encyclopedia
,
Wikipedia
.
cervix
[

ser´viks

] (pl. cer´vices) (L.)

2. the front portion of the neck.

3. cervix uteri

.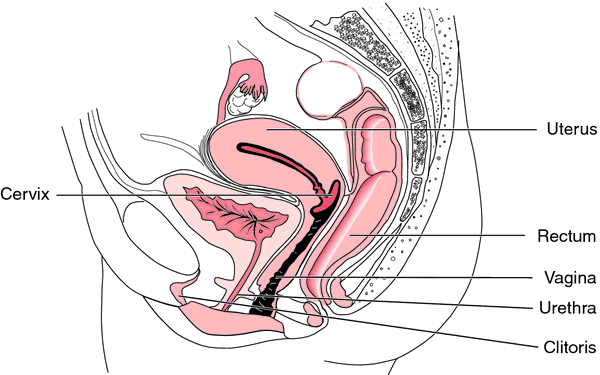 incompetent cervix a cervix uteri that is abnormally prone to dilate before termination of the normal period of gestation, resulting in premature expulsion of the fetus. Predisposing factors include a previous traumatic delivery and previous dilatation and curettage. It may be corrected during pregnancy by cerclage using a band of fascia or a nonabsorbable ribbon of Mersilene to constrict the cervical os.
cervix u´teri
(
uterine cervix
) the narrow lower end of the
uterus
between the isthmus and the opening of the uterus into the vagina.
Cervical cancer
is surpassed only by lung cancer and breast cancer as a cause of female cancer deaths in the United States.
Cervical erosion
refers to ulceration of the surface epithelium of the cervix resulting from trauma (as in childbirth) or infection. Cervical lacerations are likely to occur during childbirth. Most small lacerations heal by themselves, but more extensive tears in the cervix may require surgical repair. Cervical
polyps
are fleshy growths that form on the cervix, causing bleeding, and can be removed surgically.
cervix vesi´cae urina´riae the lower, constricted part of the urinary bladder, near the opening of the urethra.
cer·vix
, gen.
cer·vi·cis
, pl.
cer·vi·ces
(

ser'viks, ser-vī'sis, -sēz

), [TA]

2. Any necklike structure.

[L. neck]
cervix
(sûr′vĭks)
n.
pl.
cervixes
or
cervices
(sûr′vĭ-sēz′, sər-vī′sēz)
1. A neck-shaped anatomical structure, such as the narrow outer end of the uterus.
2. The neck.
cervix
Anatomy A narrow necklike portion of an organ; the neck, connecting the head and trunk or a constricted part of an organ Gynecology Cervix uterine, neck of uterus A doughnut-shaped structure directly contiguous with the uterus; the lower and narrow end of the uterus, between the isthmus and ostium uteri. See Barrel cervix, Cockscomb cervix, Ripe cervix, Strawberry cervix, Uterus.
cer·vix
, pl. cervices (

sĕr'viks, -vi-sēz

) [TA]

2. Any necklike structure.

[L. neck]
cervix
The neck of the womb (UTERUS).
cervix
the neck of the UTERUS in female mammals that leads into the VAGINA. It contains numerous glands which supply MUCUS to the vagina.
Cervix
A small cylindrical organ about an inch or so long and less than an inch around that makes up the lower part and neck of the uterus. The cervix separates the body and cavity of the uterus from the vagina.
cer·vix
, pl. cervices (

sĕr'viks, -vi-sēz

) [TA]

2. Any necklike structure.

[L. neck]