heart sounds
(redirected from Cardiac sounds)
heart sounds
the sounds heard on the surface of the chest in the heart region; they are amplified by and heard more distinctly through a stethoscope. They are caused by the vibrations generated during the normal cardiac cycle and may be produced by muscular action, valvular actions, motion of the heart, or blood passing through the heart.
The
first heart sound
(S
1
) is heard as a firm but dull "lubb" sound. It consists of four components: a low-frequency, indistinct vibration caused by ventricular contraction; a louder sound of higher frequency caused by closure of the mitral and tricuspid valves; a vibration caused by opening of the semilunar valves and early ejection of blood from the ventricles; and a low-pitched vibration produced by rapid ejection.
The
second heart sound
(S
2
) is shorter and higher pitched than the first, is heard as a "dupp" and is produced by closure of the aortic and pulmonary valves.
The
third heart sound
(S
3
) is very faint and is caused by blood rushing into the ventricles. It can be heard in most normal persons between the ages of 10 and 20 years.
The
fourth heart sound
(S
4
) is rarely audible in a normal heart but can be demonstrated on graphic records. It is short and of low frequency and intensity, and is caused by atrial contraction. The vibrations arise from atrial muscle and from blood flow into, and distention of, the ventricles.
Abnormalities in Heart Sounds
. Decreased compliance of a ventricle is characterized by a
gallop
or triple rhythm. Accentuation of the third heart sound (protodiastolic or ventricular gallop) is caused by the filling of a poorly compliant ventricle with blood under high venous pressure. A presystolic or atrial gallop is an accentuated fourth heart sound and is also caused by blood filling a poorly compliant ventricle. Merging of the third and fourth heart sounds is called a mesodiastolic or summation gallop. A very rare abnormality in which four heart sounds are heard distinctly is called a "locomotive" rhythm.
Heart Murmurs
are sounds other than the normal heart sounds emanating from the heart region. They are often heard as blowing or hissing sounds as blood leaks back through diseased and malfunctioning valves or as blood is pushed through narrowed or stenotic valve orifices.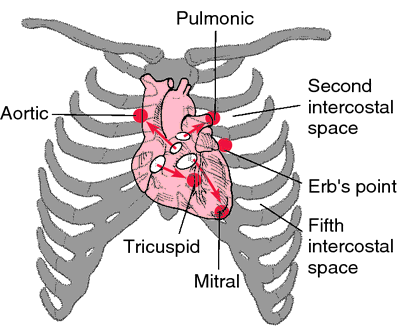 Miller-Keane Encyclopedia and Dictionary of Medicine, Nursing, and Allied Health, Seventh Edition. © 2003 by Saunders, an imprint of Elsevier, Inc. All rights reserved.
heart sounds
Farlex Partner Medical Dictionary © Farlex 2012
heart sounds
The sounds heard with a STETHOSCOPE applied over the heart. The most prominent sounds are caused by the closure of the heart valves. Heart abnormalities, especially valve disorders, cause additional sounds, called MURMURS. The timing and characteristics of these give much information about the state of the heart.

Collins Dictionary of Medicine © Robert M. Youngson 2004, 2005
heart sounds
(

hahrt sowndz

)

Noises made by muscle contraction and closure of heart valves during cardiac cycle.

Medical Dictionary for the Dental Professions © Farlex 2012