cane
(redirected from Canè)
Also found in:
Dictionary
,
Thesaurus
,
Legal
,
Idioms
,
Encyclopedia
.
cane
[

kān

]

an assistive

device

that provides partial support and balance for ambulation and standing.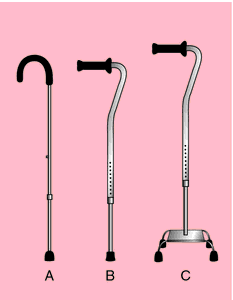 adjustable cane a cane whose length can be easily altered.
quadripod cane a cane adapted for increased stability by providing a four-legged rectangular base of support.
tripod cane one similar to a quadripod cane except that its base is triangular with three legs.
white cane a cane used by the visually handicapped to increase awareness of the immediate environment; the white color is a sign to others that the user is blind.
cane
(kān)
n.
A stick used as an aid in walking or carried as an accessory.
---
can′er n.
cane
(kān)

An assistive device prescribed to provide support during ambulation and transfers for individuals with weakness, instability, pain, or balance loss. It also may be used to unload a lower extremity joint or to partially eliminate weight-bearing. Standard (conventional) canes are made from wood or aluminum and have a variety of hand grip styles. Other styles include tripod canes, quadruped (quad) canes, and walk ("hemi") canes. Canes should be used on the unaffected (stronger) side of the body.