CHD
Also found in:
Dictionary
,
Thesaurus
,
Acronyms
,
Encyclopedia
,
Wikipedia
.
coronary
[

kor´ah-nar-e

]

encircling in the manner of a crown; said of anatomical structures such as vessels, ligaments, or nerves.

coronary arteries

two large arteries that branch from the ascending aorta and supply all of the heart muscle with blood (see also table of

arteries

).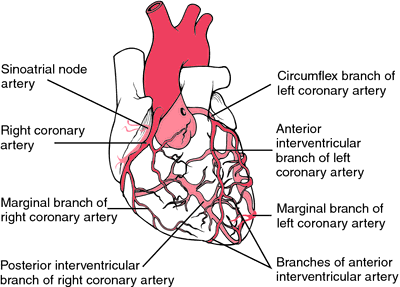 coronary artery disease (CAD) atherosclerosis of the coronary arteries, which may cause angina pectoris, myocardial infarction, and sudden death. Both genetically determined and avoidable risk factors contribute to the disease; they include hypercholesterolemia, hypertension, smoking, diabetes mellitus, and low levels of high density lipoproteins (HDL).
coronary occlusion
the occlusion, or closing off, of a coronary artery, usually caused by a narrowing of the lumen of the blood vessels by the plaques of
atherosclerosis
. Sometimes a plaque may rupture and release vasoactive or thrombogenic substances that lead to clot formation. If there is adequate collateral circulation to the heart muscle at the time of the occlusion, there may be little or no damage to the myocardial cells. When occlusion is complete, however, with no blood being supplied to an area of the myocardium,
myocardial infarction
results.
CHD
abbr.
coronary heart disease
CHD
Abbreviation for:
Centre for Human Development (Medspeak-UK)
centre haemodialysis
Chediak-Higashi disease
childhood disease
Child Health Division
chronic haemodialysis
chronic heart disease
classic Hodgkin disease
congenital diaphragmatic hernia
congenital heart disease
congenital hip dislocation
Connection of Health Data & General Practice (Medspeak-UK)
conventional haemodialysis
coronary heart disease (Medspeak-UK)
cyclohexadiene
cystic hydatid disease
CHD
1. Congenital heart disease.
2. Coronary heart disease.
ChD
Abbrev. for Doctor of Surgery.