cervical collar
(redirected from C collar)
collar
[

kol´er

]

a type of orthosis worn around the neck for support and stabilization. See also

cervical

orthosis

.

four poster collar a rigid brace with four upright rods to support the neck and reduce motion; it has chin and occipital supports.

Philadelphia collar

a rigid, adjustable

neck brace

.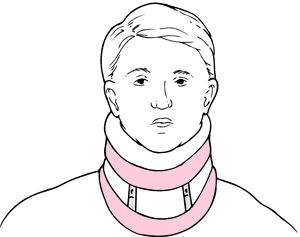 Miller-Keane Encyclopedia and Dictionary of Medicine, Nursing, and Allied Health, Seventh Edition. © 2003 by Saunders, an imprint of Elsevier, Inc. All rights reserved.
An encircling erythematous rash affecting the 2nd and 3rd cervical nerve roots of the trigeminal nerve in reactivated varicella-zoster

Segen's Medical Dictionary. © 2012 Farlex, Inc. All rights reserved.
cer·vi·cal col·lar
(

sĕr'vi-kăl kol'ăr

)

Splinting device used to stabilize the neck.

Medical Dictionary for the Health Professions and Nursing © Farlex 2012
cer·vi·cal col·lar
(

sĕr'vi-kăl kol'ăr

)

Splinting device used to stabilize the neck.

Medical Dictionary for the Dental Professions © Farlex 2012