blue sclera
Also found in:
Dictionary
,
Thesaurus
,
Encyclopedia
.
sclera
[

skle´rah

] (L.)

the tough, white outer coat of the eyeball, covering approximately the posterior five-sixths of its surface, continuous anteriorly with the cornea and posteriorly with the external sheath of the optic nerve. adj.,

adj

scle´ral.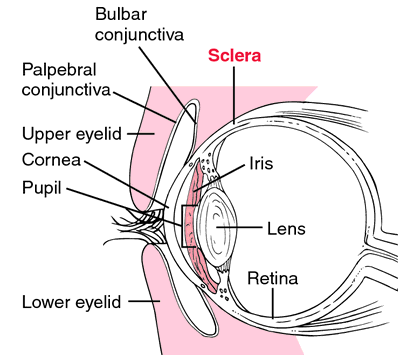 blue sclera
abnormal blueness of the sclera; it is a prominent feature of
osteogenesis imperfecta
and is also seen in certain other conditions. (See Atlas 1, Part B.)
Miller-Keane Encyclopedia and Dictionary of Medicine, Nursing, and Allied Health, Seventh Edition. © 2003 by Saunders, an imprint of Elsevier, Inc. All rights reserved.
blue scle·ra
Farlex Partner Medical Dictionary © Farlex 2012
Sclera of variable thickness that retain the normal fetal transparency so that the blue uvea is visible. Blue sclera occur alone or with brittle bones and deafness; many are autosomal dominant
DiffDx Blue sclera may also be seen in AIDS embryopathy, Bloch-Sulzberger syndrome, Crouzon syndrome, Cornelia de Lange syndrome, Ehlers-Danlos syndrome, Foelling syndrome, Laron dwarfism—Loja type—Lowe syndrome, Marfan syndrome, pseudohypoparathyroidism, Turner syndrome, and Werner syndrome

Segen's Medical Dictionary. © 2012 Farlex, Inc. All rights reserved.
blue sclera
An abnormal thinning of the sclera through which a blue uveal pigment is seen. This may be found in people with disorders of collagen formation such as osteogenesis imperfecta.
Medical Dictionary, © 2009 Farlex and Partners