pulse oximeter
(redirected from Blood gas monitor)
Also found in:
Dictionary
.
oximeter
[

ok-sim´ĕ-ter

]

a photoelectric device that measures oxygen saturation of the blood by recording the amount of light transmitted or reflected by deoxygenated versus oxygenated hemoglobin.

finger oximeter

a

pulse

oximeter

whose sensor is attached to a finger, so that the oxygenation of blood flowing through the finger can be determined. See illustration.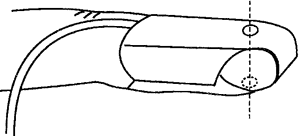 pulse oximeter an oximeter that permits measurement of oxygen saturation in an artery by recording the different modulations of a transmitted beam of light by reduced hemoglobin and oxyhemoglobin as seen during the pulse. A component of the oximeter analyzes the variations in light absorption and provides a readout of the per cent of saturation of the hemoglobin. A saturation above 90 per cent corresponds to a PaO2 of 60 torr or higher. The presence of fetal hemoglobin, carboxyhemoglobin, or intravascular dyes may alter the accuracy of a pulse oximeter. In these instances a SaO2 of 90 per cent may not be associated with a PaO2 of greater than 60 torr.
Miller-Keane Encyclopedia and Dictionary of Medicine, Nursing, and Allied Health, Seventh Edition. © 2003 by Saunders, an imprint of Elsevier, Inc. All rights reserved.
pulse oximeter
n.
A device, usually attached to the earlobe or fingertip, that measures the oxygen saturation of arterial blood by sensing and recording capillary pulsations.
---
pulse oximetry n.
The American Heritage® Medical Dictionary Copyright © 2007, 2004 by Houghton Mifflin Company. Published by Houghton Mifflin Company. All rights reserved.
pulse oximeter
Critical care A device that measures the difference in the light transmitted by oxygenated and deoxygenated Hb caused by their differences in light absorption within the circulation; the PO takes advantage of these differences and provides an indirect measurement of the arterial Hb O2 saturation

McGraw-Hill Concise Dictionary of Modern Medicine. © 2002 by The McGraw-Hill Companies, Inc.
pulse ox·i·me·ter
(

pŭls oks-im'ĕ-tĕr

)

A spectrophotometric device that noninvasively estimates saturation of arterial oxyhemoglobin (SaO2) by use of selected wavelengths of light.

Medical Dictionary for the Health Professions and Nursing © Farlex 2012
pulse oximeter
A device for the continuous monitoring of the blood oxygen levels, both by visible and audible means, during general anaesthesia. This is a major aid to patient safety as a very small drop in blood oxygenation is immediately apparent, alerting the anaesthetist to investigate the cause. A small transducer device is clipped to, or pushed over, a finger of the patient and connected to the main equipment by a light cable.

Collins Dictionary of Medicine © Robert M. Youngson 2004, 2005