Babinski reflex
Also found in:
Dictionary
,
Thesaurus
,
Encyclopedia
.
Babinski reflex (sign)
[

bah-bin´ske

]

a reflex action of the toes, normal during infancy but abnormal after 12 to 18 months of age; after locomotion begins, it is indicative of abnormalities in the motor control pathways leading from the cerebral cortex and is widely used as a diagnostic aid in disorders of the central nervous system. It is elicited by a firm stimulus (usually scraping) on the sole of the foot, which results in dorsiflexion of the great toe and fanning of the smaller toes. Normally such a stimulus causes all the toes to bend downward.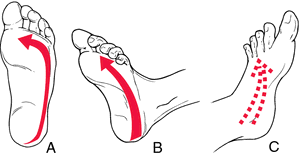 Miller-Keane Encyclopedia and Dictionary of Medicine, Nursing, and Allied Health, Seventh Edition. © 2003 by Saunders, an imprint of Elsevier, Inc. All rights reserved.
Ba·bin·ski sign
(

bă-bin'skē

),

2. in hemiplegia, weakness of the platysma muscle on the affected side, as is evident in such actions as blowing or opening the mouth;

3. when the patient is lying supine, with arms crossed on the front of the chest, and attempts to assume the sitting posture, the thigh on the side of an organic paralysis is flexed and the heel raised, whereas the limb on the sound side remains flat;

4. in hemiplegia, the forearm on the affected side turns to a pronated position when placed in a position of supination.

Farlex Partner Medical Dictionary © Farlex 2012
Babinski reflex
(bə-bĭn′skē)

also
Babinski's reflex
(-skēz)
n.
An extension of the great toe, sometimes with fanning of the other toes, in response to stroking of the sole of the foot. It is a normal reflex in infants, but it is usually associated with a disturbance of the pyramidal tract in children and adults. Also called Babinski sign, Babinski's sign.
The American Heritage® Medical Dictionary Copyright © 2007, 2004 by Houghton Mifflin Company. Published by Houghton Mifflin Company. All rights reserved.
Babinski sign
A reflex movement of the big toe upward instead of downward when the plantar aspect of the foot is stroked, a manoeuvre used to test injury to, or diseases of, the upper motor neurons.

Segen's Medical Dictionary. © 2012 Farlex, Inc. All rights reserved.
Babinski,
Joseph François Félix, French neurologist, 1857-1932.

Babinski-Nageotte syndrome - brain lesions resulting in Horner syndrome.

Babinski phenomenon - Synonym(s): Babinski sign (1)

Babinski reflex - Synonym(s): Babinski sign (1)

Babinski sign

- (1) extension of the great toe and abduction of the other toes instead of normal flexion reflex to plantar stimulation. Synonym(s):

Babinski phenomenon

;

Babinski reflex

;

Babinski test

; - (2) in hemiplegia, weakness of platysma muscle on affected side. - (3) when patient is in supine position with hands crossed on chest and attempts to sit up, the thigh on the side of an organic paralysis is flexed and heel raised, whereas unaffected side remains flat; - (4) in hemiplegia, the forearm on the affected side turns to a pronated position when placed in a position of supination.

Babinski syndrome - the combination of cardiac, arterial, and central nervous system manifestations of tertiary syphilis.

Medical Eponyms © Farlex 2012