spinal shock
(redirected from Arreflexia)
shock
[

shok

]

1. a sudden disturbance of mental equilibrium.

2.

a condition of acute peripheral circulatory failure due to derangement of circulatory control or loss of circulating fluid. It is marked by hypotension and coldness of the skin, and often by tachycardia and anxiety. Untreated shock can be fatal. Called also

circulatory collapse

.

Mechanisms of Circulatory Shock

. The essentials of shock are easier to understand if the circulatory system is thought of as a four-part mechanical device made up of a pump (the heart), a complex system of flexible tubes (the blood vessels), a circulating fluid (the blood), and a fine regulating system or "computer" (the nervous system) designed to control fluid flow and pressure. The diameter of the blood vessels is controlled by impulses from the nervous system which cause the muscular walls to contract. The nervous system also affects the rapidity and strength of the heartbeat, and thereby the blood pressure as well.

Shock, which is associated with a dangerously low blood pressure, can be produced by factors that attack the strength of the heart as a pump, decrease the volume of the blood in the system, or permit the blood vessels to increase in diameter.

Types of Circulatory Shock

. There are five main types:

Hypovolemic (low-volume) shock

occurs whenever there is insufficient blood to fill the circulatory system.

Neurogenic shock

is due to disorders of the nervous system.

Anaphylactic (allergic) shock

and

septic shock

are both due to reactions that impair the muscular functioning of the blood vessels. And

cardiogenic shock

is caused by impaired function of the heart.

Hypovolemic (Low-Volume) Shock. This is a common type that happens when blood or plasma is lost in such quantities that the remaining blood cannot fill the circulatory system despite constriction of the blood vessels. The blood loss may be external, as when a vessel is severed by an injury, or the blood may be "lost" into spaces inside the body where it is no longer accessible to the circulatory system, as in severe gastrointestinal bleeding from ulcers, fractures of large bones with hemorrhage into surrounding tissues, or major burns that attract large quantities of blood fluids to the burn site outside blood vessels and capillaries. The treatment of hypovolemic shock requires replacement of the lost volume.

Neurogenic Shock. This type, often accompanied by fainting, may be brought on by severe pain, fright, unpleasant sights, or other strong stimuli that overwhelm the usual regulatory capacity of the nervous system. The diameter of the blood vessels increases, the heart slows, and the blood pressure falls to the point where the supply of oxygen carried by the blood to the brain is insufficient, which can bring on fainting. Placing the head lower than the body is usually sufficient to relieve this form of shock.

Anaphylactic (Allergic) Shock.

This type (see also

anaphylaxis

) is a rare phenomenon that occurs when a person receives an injection of a foreign protein but is highly sensitive to it. The blood vessels and other tissues are affected directly by the allergic reaction. Within a few minutes, the blood pressure falls and severe dyspnea develops. The sudden deaths that in rare cases follow bee stings or injection of certain medicines are due to anaphylactic reactions.

Septic Shock. This type, resulting from bacterial infection, is being recognized with increasing frequency. Certain organisms contain a toxin that seems to act on the blood vessels when it is released into the bloodstream. The blood eventually pools within parts of the circulatory system that expand easily, causing the blood pressure to drop sharply. Gram-negative shock is a form of septic shock due to infection with gram-negative bacteria.

Cardiogenic Shock. This type may be caused by conditions that interfere with the function of the heart as a pump, such as severe myocardial infarction, severe heart failure, and certain disorders of rate and rhythm.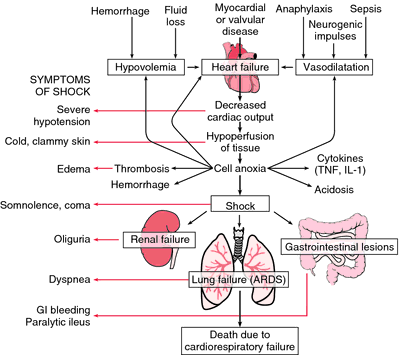 cardiogenic shock shock resulting from primary failure of the heart in its pumping function, as in myocardial infarction, severe cardiomyopathy, or mechanical obstruction or compression of the heart; clinical characteristics are similar to those of hypovolemic shock.
colloidoclastic shock colloidoclasia.
cultural shock feelings of helplessness and discomfort experienced by an outsider attempting to comprehend or effectively adapt to a different cultural group or unfamiliar cultural context.
hypovolemic shock shock resulting from insufficient blood volume for the maintenance of adequate cardiac output, blood pressure, and tissue perfusion. Without modification the term refers to absolute hypovolemic shock caused by acute hemorrhage or excessive fluid loss. Relative hypovolemic shock refers to a situation in which the blood volume is normal but insufficient because of widespread vasodilation as in neurogenic shock or septic shock. Clinical characteristics include hypotension; hyperventilation; cold, clammy, cyanotic skin; a weak and rapid pulse; oliguria; and mental confusion, combativeness, or anxiety.
insulin shock a hypoglycemic reaction to overdosage of insulin, a skipped meal, or strenuous exercise in an insulin-dependent diabetic, with tremor, dizziness, cool moist skin, hunger, and tachycardia; if untreated it may progress to coma and convulsions.
respirator shock
circulatory shock due to interference with the flow of blood through the great vessels and chambers of the heart, causing pooling of blood in the veins and the abdominal organs and a resultant vascular collapse. The condition sometimes occurs as a result of increased intrathoracic pressure in patients who are being maintained on a mechanical
ventilator
.
septic shock shock associated with overwhelming infection, usually by gram-negative bacteria, although it may be produced by other bacteria, viruses, fungi, and protozoa. It is thought to result from the action of endotoxins or other products of the infectious agent on the vascular system causing large volumes of blood to be sequestered in the capillaries and veins; activation of the complement and kinin systems and the release of histamine, cytokines, prostaglandins, and other mediators may be involved. Clinical characteristics include initial chills and fever, warm flushed skin, increased cardiac output, and a lesser degree of hypotension than with hypovolemic shock; if therapy is ineffective, it may progress to the clinical picture associated with hypovolemic shock.
spinal shock the loss of spinal reflexes after injury of the spinal cord that appears in the muscles innervated by the cord segments situated below the site of the lesion.
spi·nal shock
transient depression or abolition of reflex activity below the level of an acute spinal cord injury or transection.
spinal shock
a form of shock associated with acute injury to the spinal cord. Temporary suppression of reflexes controlled by segments below the level of injury. The period of shock may last from hours to months. See also
shock
.
spinal shock
Critical care Neurogenic shock A clinical complex caused by trauma to the vertebral column and spinal cord, resulting in a transient–3-6 wk in duration–loss of reflex activity due to functional or anatomic interruption of the corticospinal tracts; SS is seen immediately after complete injury at the T6 level or above, and is accompanied by arreflexia, loss of sensation, flaccid paralysis below the level of the lesion, flaccid bladder with urine retention, and lax anal sphincter Obstetrics An idiopathic postpartum vasomotor collapse that follows spinal anesthesia, 2º to various stressants of delivery–eg, acute blood loss, electrolytic imbalance, adrenocortical insufficiency, pre-eclampsia, anesthetics, amniotic fluid embolism.

Spinal shock

Arreflexia–complete 'failure' below lesion–eg, tetraplegia, paraplegia, overflow incontinence, paralytic ileus, gastric atony and depression of cremasteric reflex; arreflexia is followed several wks later by

Hyperreflexia–exaggeration of reflexes with flexor spasms and autonomic dysreflexia, bladder distention, diaphoresis, HTN, and bradycardia; certain reflexes–eg, anal 'wink', bulbocavernosus and cremasteric reflexes, full penile erection, reflex leg withdrawal and Babinski sign, are retained after complete spinal cord transection since these reflexes don't require higher levels of control
spi·nal shock
(

spīnăl shok

)

Transient depression of reflex activity below level of an acute spinal cord injury or transection.
shock
a condition of acute peripheral circulatory failure due to derangement of circulatory control or loss of circulating fluid. It is marked by hypotension, coldness of the skin and tachycardia.
---
shock bodies
hyaline globules composed of fibrin degradation products which act as microthrombi and cause hemorrhage and necrosis.
burn shock
the loss and redistribution of fluid, electrolytes and plasma protein, increased blood viscosity and increased peripheral resistance that follow a severe burn contribute to shock.
cardiogenic shock
classically associated with acute myocardial infarction in humans; in animals may be caused by intrinsic congestive heart failure, cardiac depression caused by anesthetic overdosage or other drugs with negative inotropism, rarely, thromboembolism.
colloidoclastic shock
shock due to breakdown of the physical equilibrium of the body colloids. Thought to cause anaphylactic shock due to the absorption of the colloids into the bloodstream.
distributive shock
see vasogenic shock (below).
electric shock
see electrical injuries.
electroplectic shock
electric shock. See also electrical stunning.
endotoxic shock
caused by endotoxins, especially
Escherichia coli.
See also
toxemic
shock.
shock gut
animals in shock develop changes in the gut including congestion and hemorrhage into the lumen.
hypovolemic shock
shock due to reduced blood volume as a result of water deprivation, fluid loss due to diarrhea, vomiting, extensive burns, intestinal obstruction, whole blood loss.
insulin shock
a condition of circulatory insufficiency resulting from overdosage with insulin, which causes too sudden reduction of blood sugar. It is marked by tremor, weakness, convulsions and collapse.
irreversible shock
shock which has reached the stage where irreparable damage has been done to tissues, e.g. liver, kidneys and treatment will not salvage the patient although it might prolong life for a long time.
shock lung
animals in shock due to massive burns, septicemia, disseminated intravascular coagulation (DIC), acute viral or bacterial pneumonias or trauma develop an acute respiratory distress syndrome. The pulmonary lesion is a nonspecific acute or subacute interstitial pneumonia.
nervous shock
a temporary cessation of function in nervous tissue caused by an acute insult such as trauma without the part having been directly or detectably damaged. The loss of function is only temporary, usually for a few minutes but it may last for several hours. There may be residual signs due to direct damage when the shock passes. Stunning by a lightning stroke is an example.
shock organs
those organs, specific to each animal species, which respond to allergens circulating in the blood.
spinal shock
flaccid paralysis up and down the body from the site of the spinal cord lesion. Accompanied by a fall in skin temperature, vasodilatation and sweating. Signs disappear within an hour or two. There may be residual signs due to physical injury to tissue.
vasogenic shock, vasculogenic shock
shock exists because of the severe reduction in effective circulating blood volume caused by sequestration of blood and other fluids in the vascular system and their withdrawal from the circulating blood. Is the classical shock of traumatic injury, burns, uterine prolapse, extensive surgery.