anterior cord syndrome
Also found in:
Dictionary
,
Thesaurus
,
Encyclopedia
,
Wikipedia
.
anterior cord syndrome
localized injury to the anterior portion of the spinal cord, characterized by complete paralysis and hypalgesia and hypesthesia to the level of the lesion, but with relative preservation of posterior column sensations of position and vibration.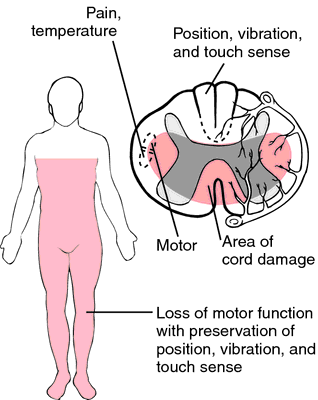 Miller-Keane Encyclopedia and Dictionary of Medicine, Nursing, and Allied Health, Seventh Edition. © 2003 by Saunders, an imprint of Elsevier, Inc. All rights reserved.
anterior cord syndrome
Neurology A post-traumatic spinal cord symptom complex characterized by a loss of voluntary motor function, pain, and temperature sense, and intact distal position, vibration, and light touch sense, dysfunctional anterior and lateral columns and intact posterior columns Etiology Trauma to relatively mobile cervical vertebrae, common in whiplash injury–spinal hyperextension

McGraw-Hill Concise Dictionary of Modern Medicine. © 2002 by The McGraw-Hill Companies, Inc.