Wolf-Hirschhorn syndrome
(redirected from 4p- syndrome)
Wolf-Hirschhorn syndrome
[

woolf´hirsh´horn

]

a syndrome associated with partial deletion of the short arm of chromosome 4, characterized by an undersized head, increased distance between the eyes,

epicanthus

,

cleft palate

, a small receding mandible, low-set ears that are simplified in form, undescended testes, and

hypospadias

.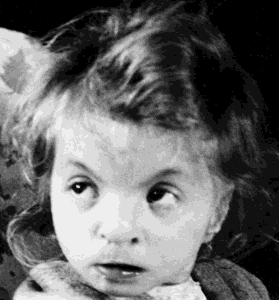 An autosomal dominant [MIM 194190] chromosome deletion complex characterised by low birth weight, microcephaly, 'Greek helmet' facies—micrognathia, hypertelorism, epicanthus, beaked nose, redundant lateral nasal folds, cleft palate—inguinal hernia, cryptorchism, hypospadias and death before age 3
Wolf-Hirschhorn syndrome
(woolf′-hirsh′horn″)

[Kurt Hirschhorn, Austrian-born U.S. geneticist, b. 1926; Ulrich Wolf, Ger. geneticist, b. 1933]

,
WHS
A relatively rare disorder caused by a deletion of the short arm of chromosome 4, which results in the absence of a fibroblast growth factor receptor. Its clinical hallmarks include abnormal facial development, delays in attaining neurological and behavioral milestones, mental retardation, short stature, and heart defects. Affected children often succumb to the disease in the first years of life.