Klinefelter's syndrome
(redirected from 49,XXXXY syndrome)
Also found in:
Dictionary
,
Thesaurus
,
Encyclopedia
.
Klinefelter's syndrome
[

klīn´fel-terz

]

a condition in males characterized by small testes, with fibrosis and hyalinization of seminiferous tubules, impairment of function and clumping of Leydig cells, and an increase in urinary gonadotropins, associated with an abnormality of the sex chromosomes. It is associated typically with an XXY chromosome complement.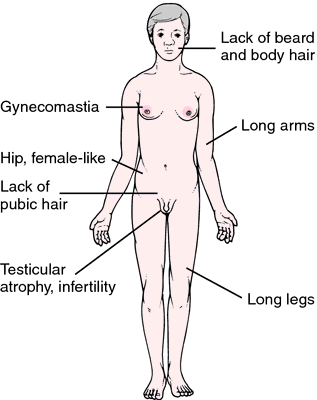 Miller-Keane Encyclopedia and Dictionary of Medicine, Nursing, and Allied Health, Seventh Edition. © 2003 by Saunders, an imprint of Elsevier, Inc. All rights reserved.
Klinefelter syndrome
A syndrome with a 47, XXY chromosome complement, in which the subjects are phenotypically male but have seminiferous tubule dysgenesis, elevated plasma and urinary gonadotropins, variable gynecomastia, eunuchoid habitus and possibly female secondary sex characteristics. Some patients are chromosomal mosaics, with two or more cell lines of different chromosome constitution.

Segen's Medical Dictionary. © 2012 Farlex, Inc. All rights reserved.
Klinefelter's syndrome
A male bodily disorder caused by one or more additional X (sex) chromosomes. Instead of the normal X and Y sex chromosomes, men with Klinefelter's syndrome have an XXY configuration. This has a feminizing effect. The penis and testicles are small and there may be female breast development and diminished sexual interest (libido). Homosexuality and transvestism are common. The diagnosis can easily be confirmed by chromosomal analysis. Hormonal and plastic surgical treatment can help. (Harry Fitch Kleinfelter, American physician, b. 1912)

Collins Dictionary of Medicine © Robert M. Youngson 2004, 2005
Klinefelter's syndrome
a human chromosomal abnormality in which there is an extra X-chromosome making a complement of 44 autosomes plus XXY (47 in all). The affected individuals are male (showing the SEX DETERMINATION role of the Y-chromosomes) but with much reduced fertility, and a number of female secondary sexual characteristics, such as breasts, often occur. About 1 in 1000 liveborn males are affected by this condition, which arises from NONDISJUNCTION in one or other parent, more probably the female where there is a distinct positive age effect (as in DOWN'S SYNDROME).

Collins Dictionary of Biology, 3rd ed. © W. G. Hale, V. A. Saunders, J. P. Margham 2005
Klinefelter's syndrome
Chromosomal abnormality characterized by small testes and male infertility.
Gale Encyclopedia of Medicine. Copyright 2008 The Gale Group, Inc. All rights reserved.
Patient discussion about Klinefelter's syndrome
Q. how do I Know the treatment of klinefelter syndrome. availability of treatment in Sudan (Am fat,small pains )
More discussions about Klinefelter's syndrome
This content is provided by iMedix and is subject to iMedix Terms. The Questions and Answers are not endorsed or recommended and are made available by patients, not doctors.