margin
(redirected from -margined)
Also found in:
Dictionary
,
Thesaurus
,
Legal
,
Financial
,
Encyclopedia
.
margin
[

mahr´jin

]

gum margin the border of the gingiva surrounding, but unattached to, the substance of the teeth.
mar·gin
(

mar'jin

), [TA]

[L. margo, border, edge]
margin
/mar·gin/ (

mahr´jin

) an edge or border.mar´ginal
---
gingival margin
  the border of the gingivia surrounding, but unattached to, the substance of the teeth.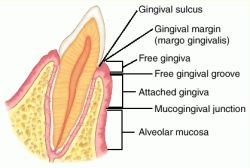 margin
1 the mechanical preparation of a ledge to which a dental restoration meets natural tooth structure. Margins may occur above the gingiva (supragingival) and/or below the gingiva (subgingival). Compare bevel, butt, shoulder, chamfer.
margin
Managed care
A popular "short form" for margin of profitability, the annual percentage of profits generated from a hospital, regardless of whether it is for-profit or nonprofit.
 
Medspeak
The edge, limit or extreme of a thing.
 
Pathology
The surgical limit of a resected tissue.
mar·gin
(

mahr'jin

) [TA]

A boundary, edge, or border, as of a surface or structure.
margin
border, margin or edge.
---
antitragal margin
caudal edge of the ear.
central margin
the inner margin of the sole of the horse's hoof, occupied by the bars and the apex of the frog.
coronal margin
proximal border of the hoof where the horn meets the skin.
epididymal margin
the attached border of the testis where the epididymis is attached.
free margin (margo liber)
the unattached border of the testis.
interalveolar margin
the ridge along the alveolar process of the maxillae and mandibles between the teeth.
mesometric margin
the border of the uterus to which the broad ligament is attached.
parietal margin
outer margin of the sole of the hoof, connected to the wall of the hoof by the white line.
plicated margin
the raised cuticular ridge that separates the esophageal part of the stomach in the horse from the glandular part.
pupillary margin
the free edge of the iris, the edge of the pupil.
safety margin
1. the ratio between the lethal dose for 1% of the population and the effective dose for 99% of the population. Used to describe the toxicity of a pharmaceutical agent.
2. estimate of the ratio of the 'no-observed-effect' level (NOEL) to the level accepted in regulations relating to epidemiology and disease control. Called also margin of safety.
tragal margin (margo tragicus)
anteromedial edge of the ear.