quadriceps femoris
Also found in:
Dictionary
,
Thesaurus
,
Encyclopedia
,
Wikipedia
.
quadriceps femoris
[kwod′riseps]
Etymology: L, quattuor, four, caput, head, femur, thigh
the large extensor muscle of the anterior thigh, composed of the rectus femoris, the vastus lateralis, the vastus medialis, and the vastus intermedius. The quadriceps forms a large dense mass covering the front and sides of the femur. Tendons of the four parts of the muscle unite at the distal part of the thigh, forming a single strong tendon that embeds the patella and inserts onto the tibial tuberosity. The muscle functions to extend the leg.
quadriceps femoris
A large muscle on the anterior surface of the thigh composed of the rectus femoris, vastus lateralis, vastus medialis, and vastus intermedius muscles. These muscles are inserted by a common tendon on the tuberosity of the tibia. The quadriceps femoris is an extensor of the leg.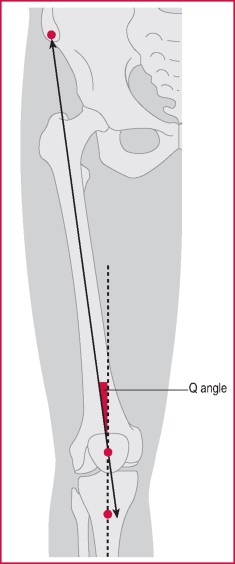 quadriceps femoris
(commonly known as quads) muscle group on the front of the thigh comprising lateral, intermediate and medial vasti (all contributing to knee extension, with origin from the shaft of the femur) and rectus femoris (contributing also to hip flexion, by its origin from the ilium of the pelvis). Parts of the vasti are inserted into the top and sides of the patella, and contribute tendinous reinforcements to the joint capsule of the knee. The four muscles converge onto the single quadriceps tendon which spans the front of the knee to be inserted as the patellar tendon (ligament) into the tibial tubercle (tuberosity). See also patella, Q(quadriceps)-angle.
quadriceps femoris
group of hip flexor muscles located on anterior thigh; i.e. vasti (vastus medialis, lateralis and intermedius) and rectus femoris; tendons unite to form quadriceps tendon which contains the patella, and inserts into the tibial tubercle inferior to the anterior aspect of the knee joint; quadriceps femoris muscles are subserved by the femoral nerve and act together to extend the knee and flex the hip joints