nerve fibre
Also found in:
Dictionary
,
Thesaurus
,
Encyclopedia
,
Wikipedia
.
Related to nerve fibre:
neurone
,
myelinated nerve fiber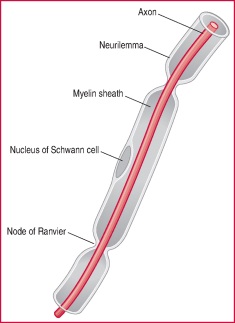 nerve fibre
component of all nerves and their branches in the peripheral nervous system (PNS), and of the tracts in the central nervous system (CNS). The central axontransmits nerve impulses (action potentials) to the nerve terminal in motor (efferent) nerves, or from a receptor to a nerve cell body in sensory (afferent) nerves. Also common to all nerve fibres are an outermost covering (neurilemma) and within that the Schwann cells which are crucial to the regeneration process if a fibre is damaged. In myelinated nerve fibres (including motor nerves to skeletal muscle) there is a fatty myelin sheath between the axon and the neurilemma, interrupted at intervals by the 'nodes of Ranvier'; action potentials 'jump' between these, enabling faster conduction. Each efferent nerve fibre runs from a nerve cell body to terminal branches at a nerve-to-nerve synapse or at an effector organ; each afferent fibre runs from a sensory receptor to a relay site in the CNS.