dental implant
Also found in:
Dictionary
,
Thesaurus
,
Legal
,
Encyclopedia
,
Wikipedia
.
implant
1.
(im-plant´) to insert or graft material, such as tissue or radioactive material, into intact tissues or a body cavity; see also
transplant
.
2. (im´plant) any material inserted or grafted into the body.
dental implant
a prosthetic tooth with an anchoring structure surgically implanted beneath the mucosal or periosteal layer or in the bone.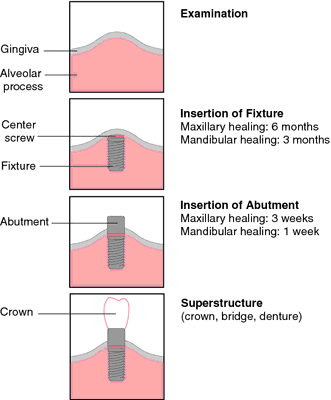 dental implant
n.
A prosthetic tooth that is anchored in the jawbone to replace a missing tooth.
dental implant
a plastic or metal anchor that is inserted into a jawbone to provide permanent support for a crown, fixed bridge, or denture when the bone itself would provide insufficient support. About 8 weeks after a tooth or teeth are removed, the anchor is screwed into a hole that has been drilled into the jaw. The gingiva is closed over the implant site, which allows the area to remain sterile, and new bone is allowed to grow around and fuse with the anchor for up to 6 months before the crown, bridge, or denture is attached. Also called a delayed load implant. Immediate load dental implants allow placement of a dental restoration or denture at the time of insertion of the dental implant.
dental implant
Osseointegrated implant Dentistry A prosthesis anchored in the maxilla or mandible, allowing subsequent placement of artificial teeth. See Cosmetic dentistry.
dental implant
In dentistry, a prosthetic device in any of several shapes. It is implanted into oral tissues beneath the mucosa or the periosteal layer, or within the bone to support or hold a fixed or removable prosthesis. Synonym:
tooth implant
See:
illustration
CAUTION!
Ultrasonic devices should not be used on dental implants.
den·tal im·plant
(

dentăl implant

)

The artificial replacement for a tooth root

See also:

dental implants

,

endosseous dental implant