Whipple's operation
Whipple's operation (procedure)
[

hwip´-elz

]

a radical

pancreatoduodenectomy

with removal of the distal third of the stomach, the entire duodenum, and the head of the pancreas, with gastrojejunostomy, choledochojejunostomy, and pancreatic jejunostomy. This procedure is used for pancreatic carcinoma.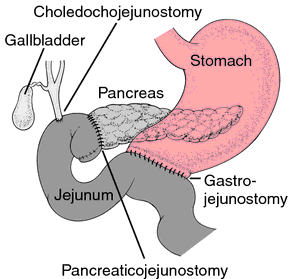 Whipple's operation
a technique for repair of a prolapsed vagina in the bitch based on submucous resection and suturing of the cut ends.