pyramidal tracts
Also found in:
Dictionary
,
Thesaurus
,
Wikipedia
.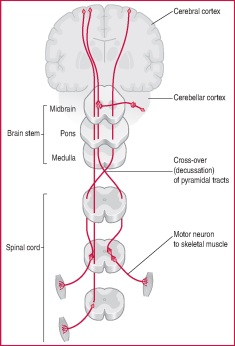 pyramidal tracts
the nerve pathways from the motor cortex of the brain to the motor neurons in the spinal cord (some direct but the majority via relay stations) that activate voluntary movements. Figure 1.
pyramidal tracts
principal central nervous system motor tracts, extending from the cerebral motor cortex to the contralateral ventral horn of the spinal cord, crossing from the ipsilateral to contralateral at the medulla (i.e. the decussation of the pyramids)
pyramidal
shaped like a pyramid.
---
pyramidal disease
abnormal growth of the wall of the hoof in the horse in which the vertical midline of the front of the hoof bulges, causing lameness. Caused by fracture of the extensor process of the third phalanx or by low ringbone.
pyramidal nervous system
pyramidal-shaped nerve cells in the cerebral cortex and their efferent neurons to skeletal muscles.
pyramidal tracts
collections of motor nerve fibers arising in the brain and passing down through the spinal cord to motor cells in the ventral horns.