carotid arteries
Also found in:
Dictionary
,
Thesaurus
,
Encyclopedia
.
com·mon ca·rot·id ar·ter·y
[TA]

origin, right from brachiocephalic, left from arch of aorta; runs superiorly in the neck and divides opposite upper border of thyroid cartilage (C-4 vertebral level) into terminal branches, external and internal carotid.
Carotid arteries
The four principal arteries of the neck and head. There are two common carotid arteries, each of which divides into the two main branches (internal and external).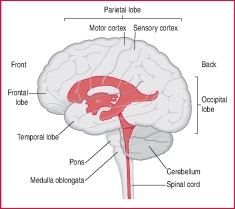 carotid arteries
the principal arteries on each side of the neck, providing a major part of the blood supply to the head and neck. Where each common carotid artery divides into external and internal branches, there is a dilatation, the carotid sinus; nerve endings in its walls (baroreceptors) are sensitive to stretch caused by rising arterial blood pressure, and via connections to the brain stem lead to reflex slowing of the heart rate and thus a corrective fall in pressure (baroreflex). The internal carotid artery enters the base of the skull to reach the brain; the external carotid artery provides branches that supply the extracranial tissues of the head and neck. Figure 1.